Association for Women in Architecture and Design
Waking State Design is very pleased to have been commissioned to redesign the AWA+D website, completed July, 2019.
Membership services were integrated into the new site, including events, job postings, sponsorship and donation, and volunteer opportunities.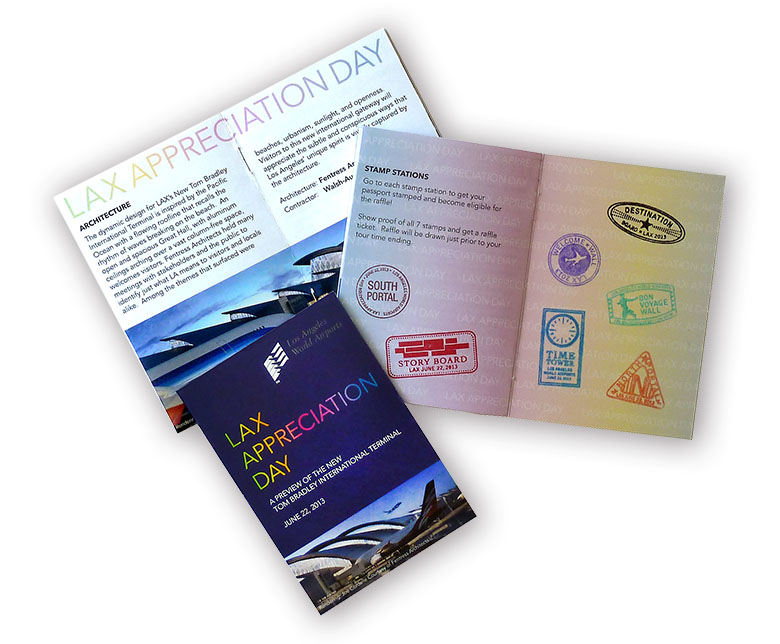 LAX Appreciation Day event
In 2013, LAX celebrated the completion of the redesigned Tom Bradley International Terminal with a public event, LAX Appreciation Day.
Waking State Design branded the event, and designed all visual communications surrounding it: event passport with stamps, print and electronic ads that ran in the LA Times, and event signage.
Since 2014, we have been designing the KUSC Radio Station's Member Guide, a bi-monthly newsletter, both a print and electronically distributed publication.
We loved working with KUSC in creating the mascots for their Kids Discovery Day events at the Los Angeles County Museum of Natural History, the San Jose Museum of Technology, and most recently the Bowers Museum in Orange County!
Waking State Design designed, edited, and took much of the photography for this 60 page book, showcasing the museum that now houses one of the largest car collections in the U.S.
We love working for our alma mater, UCLA! For the UCLA Lab School, we have the privilege of designing banners, also the 135th Anniversary celebration book that featured a historic timeline.
Friends of the Israel Defense Forces
Since 2008, we have had the pleasure of working with the FIDF, Western Region, designing the brands for their annual galas, and all of the print and signage elements.